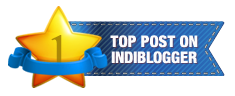 When it comes to crafts, I have learnt quite a few of crafts. Some are inherited from my mother, like sewing , crochet, hand embroidery etc. Some I learnt from different craft teachers. Painting and sketching - I never learnt from anybody, just tried it, sometimes it was
good
sometimes
disaster
. I can say,I'm still
practising pencil sketching
. Every time I make pencil sketching, I feel I have achieved not even 10% of perfection : (. While learning tatting , I literally begged a lady to teach
tatting
. I know , still more to learn, and very long way to go in this arts and crafts world!
Today, when I was trying to clean my crafts materials. I found this kit .This is a bobbin lace making kit I had bought 3 years ago. Hmm... I never got a teacher from whom I could learn this art of converting thread into beautiful laces. I know , you all will suggest me to go through some online tutorials. But I feel, some arts require teacher, who will be with us to guide whenever we are stuck, give easy tips to learn fast. Especially in crafts involving threads, there are chances that patience will be lost in case of knots. I have gone through some of the online tutorials too, tried but in vain.
You may wonder, why I'm so much murmuring about not learning bobbin lace. Any craft lover if sees the bobbin lace would have the desire to learn this art.
Image courtesy-Wikipedia
Image courtesy-Wikipedia
Bobbin lace making is an amazing craft of converting threads into beautiful laces. Bobbin lace is woven with pairs of threads which are woven on these bobbins.
The magic of threads getting converted into laces :
Image courtesy-Wikipedia
Its an European art , which spread to many parts of India by Christan missionaries. Now also, in Kanyakumari its an industry, and the laces are exported to Italy.
When I visit Kanyakumari, I will explore more about this craft. Hope, I will find a teacher to fulfill my desire of learning "bobbin lace making"
Love , laugh and live the life to the fullest,
-Ranjana